Pool Pump Covers Complete Buying Guide
Like the look of SlatMe's pool pump covers but not sure how to choose the right one for your space? Check out this handy buying guide for a quick overview of all the available pool filter cover options.
1. Free Standing vs Wall Mounted?

The first question to ask is whether you need a free standing pool pump cover or a wall mounted pool pump cover.
Wall Mounted
Perfect if you have a solid wall or masonry fence to attach the back of your pool pump cover to. This model comes without a rear panel, which makes it ideal for areas where the pool equipment has been installed directly in front of a solid wall. Most suited to masonry wall attachments, this style can also be used successfully with structural walls constructed out of weatherboards, greenboard and other cladding systems. However, the wall mounted option is not recommended for Colorbond or timber fences.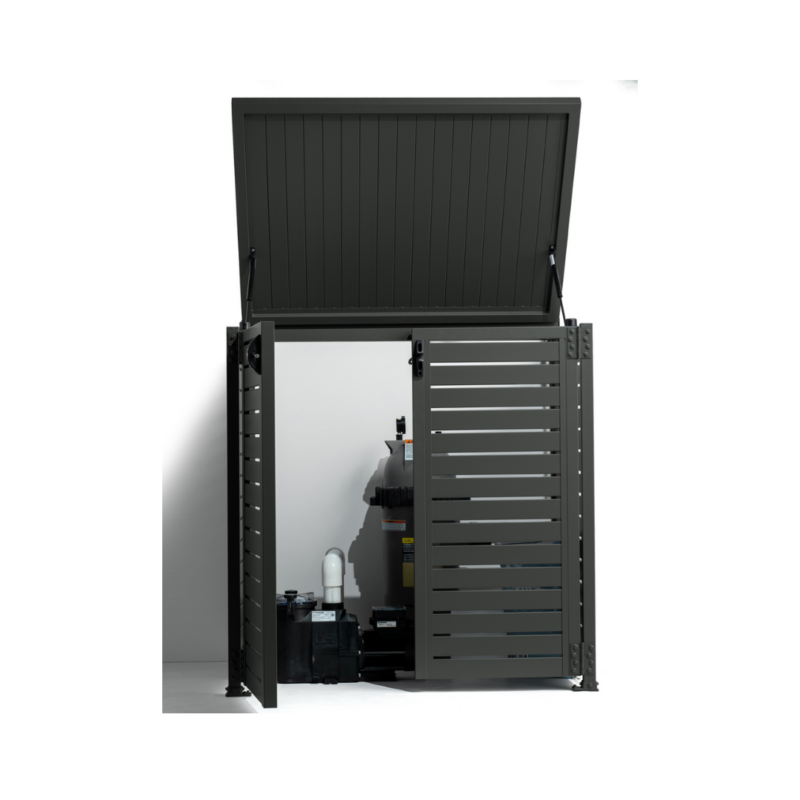 Free Standing
If you don't have a structural wall are solid masonry fence to mount your pool filter cover to, the free standing model is the option for you. This style comes with a rear panel, and, as the name suggests, it is designed as a stand alone unit that is self supported by four legs which are fixed into your concrete slab. This set up is ideal for areas where the pool equipment has been installed away from any surrounding walls or fences, or where the pool equipment sits in front of a Colorbond or timber fence.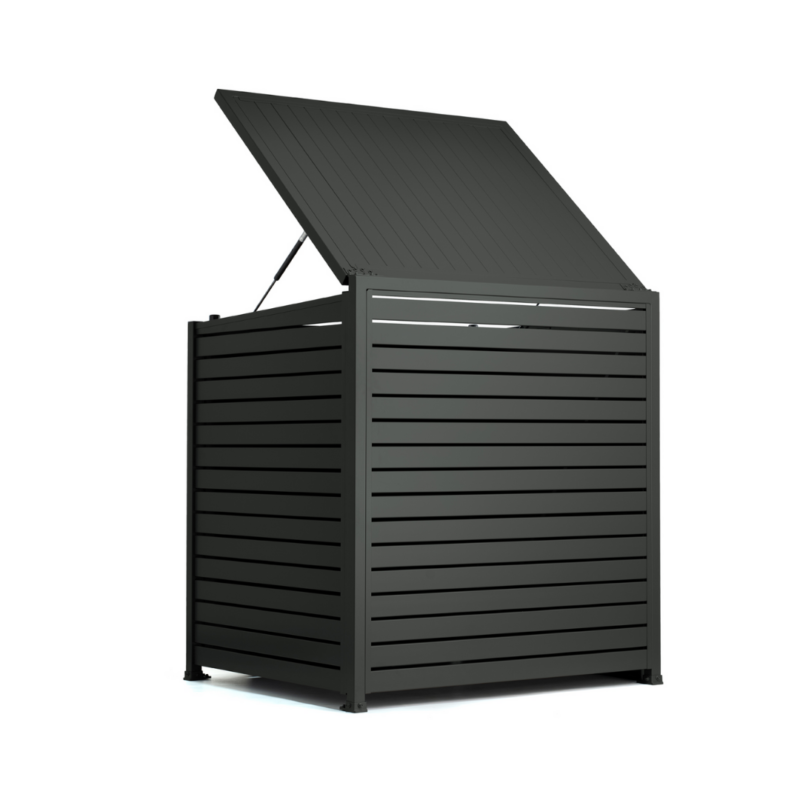 2. Custom Pool Pump Covers

Some minor modifications are available if you have electrical and plumbing work that needs to be factored into your design.
Free Standing with No Rear Slats
Ideal for Colorbond or timber fences, or electricals. If you are installing a free standing pool filter cover directly in front of a Colorbond or timber fence, ask us about removing the slats in the rear panel to save on costs (we can send you a sneaky little discount code). Removing the rear slats is also a great way to accommodate any electrical work that might be mounted behind your pool equipment, as, unlike the wall mounted version, this does not require any rear fixing points.
Modified Side Panels
Ideal for plumbing and pipework. If you have some uncontained pipes running around your pool equipment, you may be able to accommodate them by removing the slats in either one or both side panels. Please contact us to discuss the suitablity of this option for your project.
3. Sizes

Once you've worked out which style you need, and whether or not you need any customisations, the next step is to pick a size. There are over 100 different size combinations available! But don't panic, it's actually really easy to work out which one is right for you. You will just need to measure the depth, height and width of your pool equipment and choose the size that best fits everything in.
Depth
First, pick your depth. In the wall mounted range, you have a choice of a 900mm, 1000mm, 1100mm or 1200mm deep pool pump cover. In the free standing range, you can choose between 1040mm deep or 1240mm deep.
Height
Choose from either 1285 or 1485mm high in both the free standing and wall mounted ranges.
Width
Finally, select your width. All of our pool filter covers are available in widths from 1000mm (1m) up to 2000mm (2m). We recommend choosing the widest pump cover that fits in your space, as it gives you some extra storage space for pool chemicals and other bits and pieces.
4. Powdercoat Colours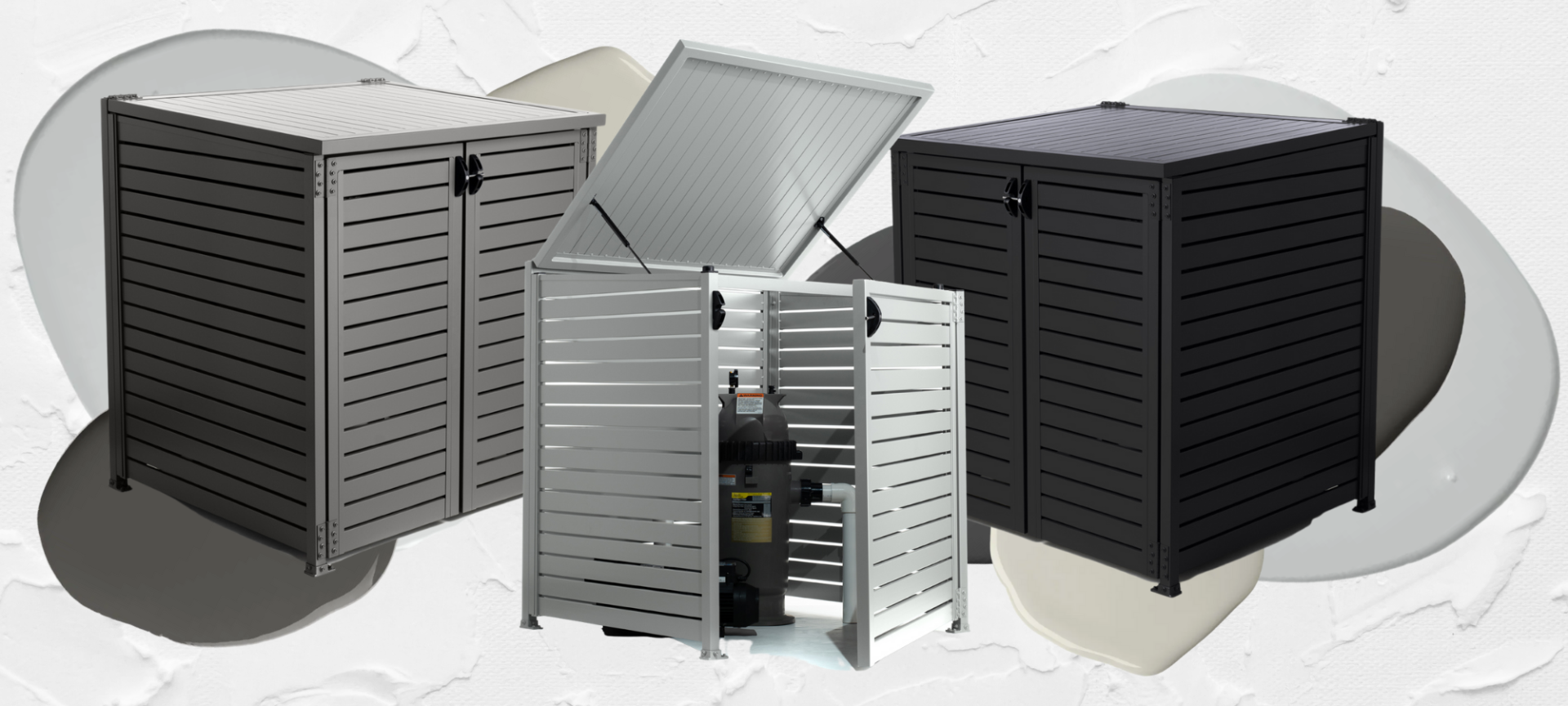 The decision that will probably have the biggest impact on the overall look of your pool pump cover is the colour. With 30 different colour options to choose from, SlatMe's pool pump covers can easily coordinate with any outdoor colour scheme. Our most popular colours are the neutral tones of Colorbond Woodland Grey, Monument and Surfmist. Classic Black and White are also trending now for modern homes. If you are unsure which colour is right for you, we recommend taking a visit to your local hardware store and grabbing some paint colour cards for the Colorbond colours for inspiration. It's also handy to remember that the colours displayed on your screen will differ slightly in real life, so please bear that in mind when making your selection.

For more advice and tips on our Pool Pump Covers, please contact us today.