Pool Filter Cover Customer Reviews
Looking for a pool filter cover review? Here's a collection of recent customer feedback on our pool pump covers and pool equipment enclosures. Or click here to view our Google reviews.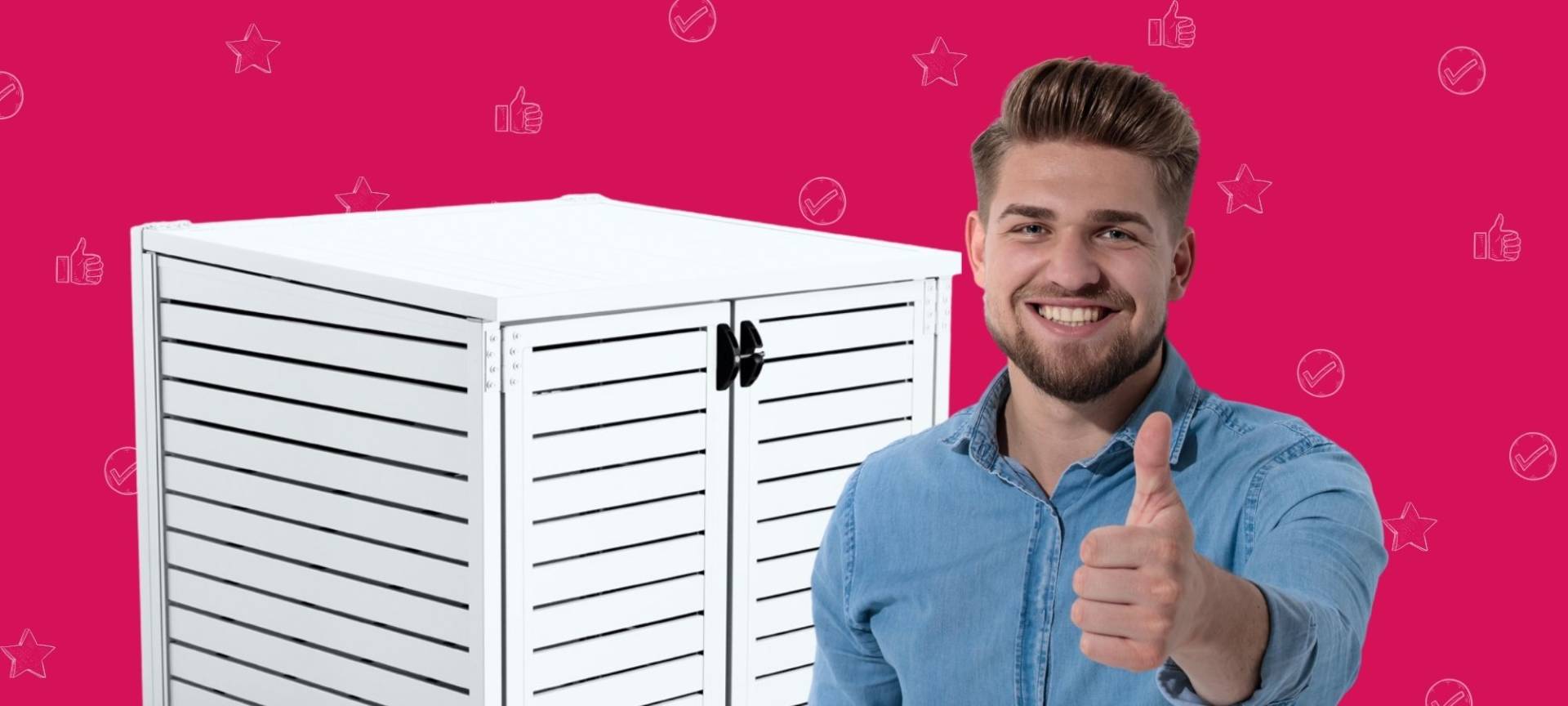 A Pool Filter Cover That Ticks All The Boxes
If you've read through our blog pages, you would have probably worked out by now that we think our pool filter covers are pretty awesome. With our premium finishes, quality hardware, and intuitive design, there's no better way to cover your bits. Our pool equipment enclosures really do tick all the boxes (in our not-so-humble opinion)!
But, as much as we could go on all day about our amazing range, you're probably wondering what some customers think about our products as well. Fear not – you don't just have to take our word for it – in this handy article, we've collated some honest feedback and reviews from 100% real SlatMe customers.
Exceptional Value
If you like the idea of getting the biggest bang for your buck, then look no further than SlatMe. Our pool filter cover range comes at a competitive price point, offering exceptional value for money. Many of our customers have been pleasantly surprised by the affordability of our pool filter covers compared to other products that offer less features and a lower quality finish. Our low mark ups and direct shipping from manufacturer to your door means you don't have to spend a million dollars to get a million dollar finish. We send you all of the hardware that you need to assemble your pool pump cover, so all you have to do is provide the tools and an hour or two of your time. A SlatMe pool pump cover really is a smart investment for your home.

"Just finished installing our SlatMe Pool Pump Cover. Everything from ordering to delivery was excellent! Installation to the masonry wall was a breeze. Looks like the professionals at half the cost. Thank you SlatMe, couldn't be happier."

Kath – Coomera, Queensland

Clever Design
Our intuitive design is another major bonus – with fully operable gates and an easy-open gas strut controlled lid included as standard on all pool filter covers. Our clever customers are often impressed by our carefully considered system, and love the fact that the easy access makes storing extra bits and pieces with their pool equipment a breeze.  Don't get caught out by other pool pump enclosures that either don't offer any front access at all, or make you remove bulky and awkward panels every time you need to access your pool pump. Take advantage of SlatMe's superior design features and enjoy easy open gates and lids for hassle-free access to your pool equipment every time.

"The finished product turned out perfect.  Please pass on my thanks to Dan for his design. It has been a pleasure dealing with your company"

Darren – Emu Heights, New South Wales

Outstanding Quality
Did we mention the quality? Happy homeowners, seasoned tradesmen and experienced pool builders who have seen our pool pump covers have been blown away by the 5 star finish and high quality hardware. Expert welding techniques create a clean and simple look, while the genuine Interpon powder coat provides a far superior finish to the cheaper powder coating methods used by some other companies.  Commercial grade fixings complete the look, with the finished product often exceeding the expectations of our customers.

"I have today had my SlatMe Pool Pump Cover installed.  I have to say it looks terrific. I want to thank you for making such a quality product.  Everything from the ordering process to delivery was exceptional. Once again, thank you"

Judith – Thornlands, Queensland

Easy DIY Install
SlatMe Pool Pump Covers are designed with the DIY weekend warriror in mind. We provide an exceptionally detailed instruction sheet with simple steps that are clear and easy to follow. If you ever get stuck, or need a bit of extra advice along the way, we offer complimentary phone and video coaching calls with every order. Most customers can complete the install in 1.5 – 2 hours, so it's DIY that you can actually do.

"I ordered a wall mounted pool pump shed online but had a couple of questions. The team were quick to reply with answers but also made sure I was comfortable. There was a small delay in shipping but Slatme let me know in advance and fast tracked the instructions so I'd be ready for when the shed arrived. Install was easy, and that's saying something because I only own a left handed hammer. The end product is easily as good as, if not better, than the pictures. Super happy!"

Earle – Lammermoor, Queensland

Good for the Soul
Don't let your unsightly pool equipment kill the vibe in in your pool area. Installing a pool filter cover can be the perfect finishing touch that transforms your pool from a purely functional space into an outdoor oasis. Enjoy the positive vibes of a well executed DIY project and the satisfaction of knowing you've made a worthwhile investment into your home. Some customers have even reported that installing a pool pump cover earned them a truck load of brownie points with their significant others! Happy wife = happy life 🙂

"Great work! We love the finished product. The misses is happy – therefore I am as well" 

Ian – Scarborough, Western Australia

Leave a Pool Filter Cover Review
If you've already installed a SlatMe pool pump cover, we'd love to hear your feedback. Please contact us and tell us what you think, or click here to leave a review.